Great Wine Starts in this Paso Robles Vineyard
The Cass Estate Vineyard, located in the Geneseo District sub-AVA, southeast of the town of Paso Robles, exemplifies the quality of the Paso Robles region with its warm days, cool coastal breezes, and exceptional soils. Resting at 900 feet of elevation, the 145-acre vineyard is planted to 12 varieties on a large terrace above the Huer Huero River. Deposited over centuries, the diverse alluvial soils make for an expressive site that produces fruit of incredible quality.
The vines on Cass Vineyard are ENTAV certified. ENTAV is an agency of the French government that is responsible for certification of winegrape clones for the wine industry in France. Vines that have been through this process constitute 90% of all new plantings in France because they are free of debilitating viruses, mature evenly, and can be matched to soils best suited to their development. Additionally, grapes in the certification process are made into wine, and descriptors of the wine are available to growers to allow for the best possible selection of vine materials.
ENTAV and the USDA came to an agreement to allow these French clones to be distributed through 3 licensed nurseries in California in 1996. Cass Vineyard was among the first vineyards in California to be planted entirely in ENTAV certified clones.
Vines are planted on 8' X 6' spacing. The largest planted acreage is to Cabernet Sauvignon at 70 planted acres. Also of note is our significantly large acreage planted to Roussanne and Marsanne, 5.65 and 3.93 acres, respectively, as there are less than 200 acres planted to each varietal in the entire state of California.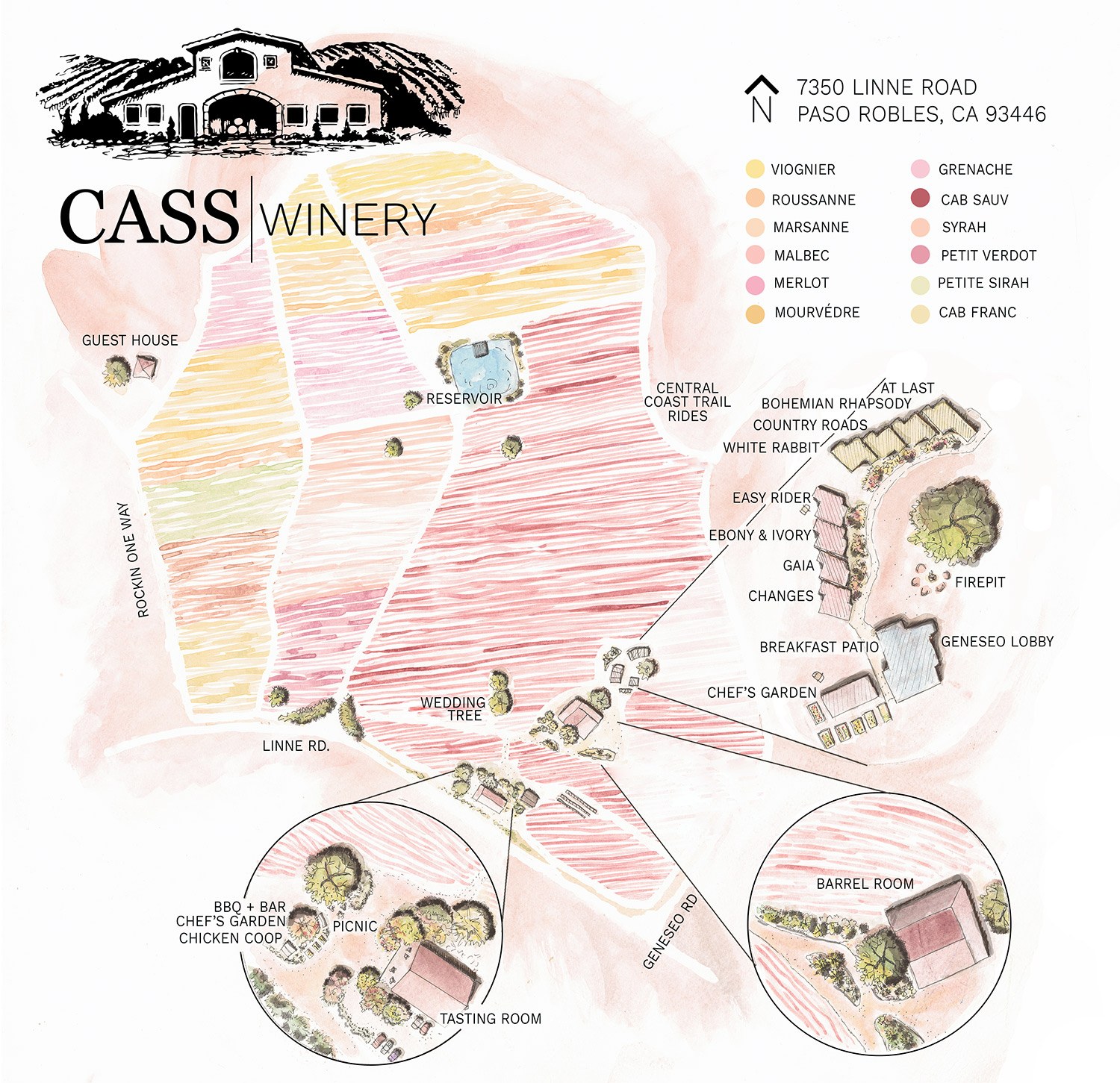 | Area | Climate | Average Annual Rainfall | Diurnal Growing Season Temperature Change (Degrees F) | Topography | Soil |
| --- | --- | --- | --- | --- | --- |
| Paso Robles Geneseo District | Region III - IV | 13-14 inches | 20-25 | Upfaulted hillls through old river terraces along Huer Huero - La Panza fault; 740-1300ft. | Old alluvial terrace and residual hillside soils of moderate depth with cementation of the gravelly Paso Robles Formation and older granites. |